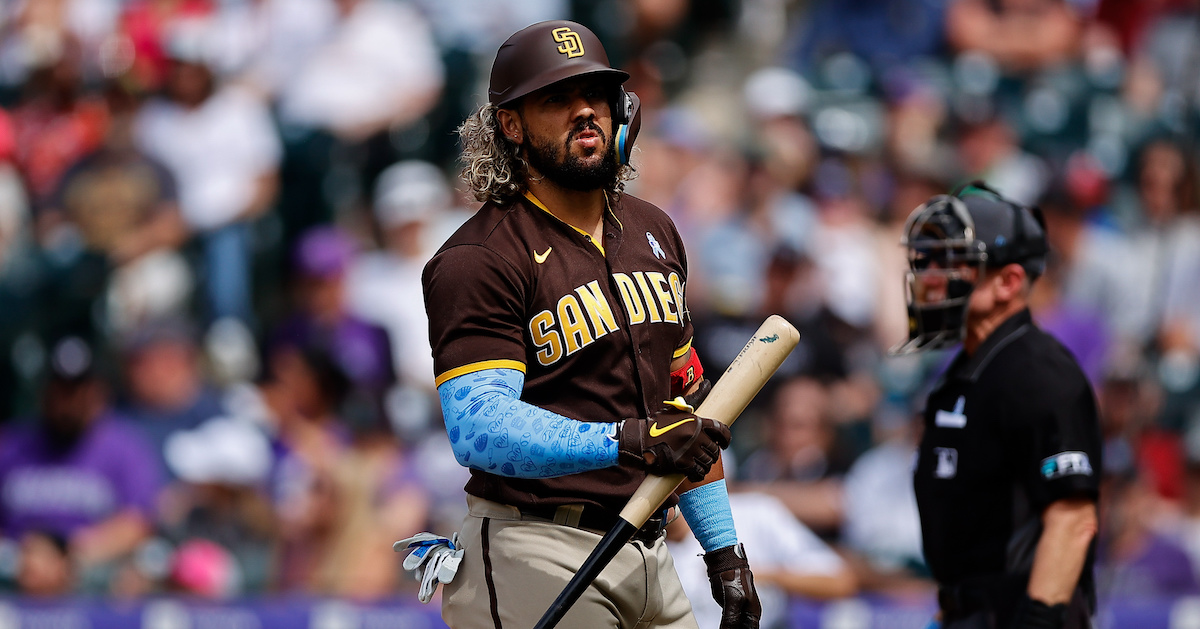 It's a good thing that baseball writers don't get tested on our ability to do fractions. Since time immemorial, we've called the All-Star break the halfway mark of the season. It's not. Every team has played at least 90 games, even in a season with a delayed start. In fact, this is the season where calling the All-Star break the halfway mark would make most sense, and it's still wrong.
Why do we do it? Partially, it's because it sure would be convenient if the break really did mark the halfway point. Dividing the season into two halves makes for some fun analysis, and it works a lot better when the division occurs at a point with an event around it, rather than some random Tuesday in early July. It's also because it creates something interesting to write about during a gap when game play would otherwise be stopped. There's dead air every year around this time; Filling it with "in the first half of the season" stories makes good sense.
I'm rambling, though. The point is, it's the All-Star break, and I want to write an article about terrible swings. What was I going to call it, the worst swings of the first 55.5% of the season? That's not catchy enough. "First half" just sounds better. And so here, perpetuating a bad sportswriter generalization, are the worst swings of the first half of the season.
A few ground rules: I'm focusing on swings at fastballs. Bad swings at breaking pitches are funny, but they're understandable. Those pitches were designed to deceive, and they accomplished their goal. Sure, maybe swinging at a slider that bounces in the opposite batter's box isn't a good look, but I can understand how a hitter might end up there. Baseball is an unfair game. The pitches move funny.

When you swing at a fastball that's nowhere near the plate, something totally different is going on. Fastballs mostly fly true. They might rise slightly more than expected, or fall off the plate slightly in the case of sinkers, but for the most part, what you see is what you get. That's why hitters hunt fastballs, and why they chase far less often and make contact more often against them. If you go full Javier Báez and take a cut at a fastball in the dirt, that's on you. The pitcher didn't fool you; you fooled yourself.
With that in mind, I've isolated the five worst swings of the first half of the season. For the most part, I stuck with one objective measure: how far from the center of the strike zone the fastball in question was when it crossed the plate. You can't really fake that; if the pitch is nowhere near the plate, then it's nowhere near the plate. I've also added a few subjective elements – count matters, situation matters, and so on. I also exercised a little judgment directionally, so that I could collect bad swings that looked different rather than five at high fastballs, or something like that.
There's one more judgment call to make. For an example, let's look at the single worst swing at a fastball this season, as measured purely by distance from the center of the strike zone:
Not quite what you expected, huh? That's technically a swing, because if you look closely, the ball hit Andrew McCutchen's bat, not his body. If your bat makes contact with the ball, you swung, regardless of how it went down. That's obviously not the worst swing of the year so far – it's not even a swing. But it does a good job of showcasing why I needed to use some discretion. Check swings don't count quite as much as full swings. Non-swings don't count at all. Without further ado, let's get to the swings.
5. Christian Vázquez vs. Christian. Aroldis Chapman
Let's start things off with a bad and also rare swing. Most bad fastball swings are at one of two types of pitch: a high four-seam fastball or a sinker that tails inside. Through a lack of command, Chapman created a mashup, a four-seamer that started low and in, and just kept going. This is a really bad pitch to swing at. There's no "it started over the plate" here. There's no "well, it was in the strike zone and then it jumped."
Chapman threw a lawn dart, in essence. It was never anywhere near the zone. I sympathize with Vázquez here. It's Aroldis freaking Chapman up there. Maybe he doesn't have pinpoint control anymore, but when he reaches back and goes for it, he still eclipses 100 mph. Reaction time is precious when that's the case; as best as I can tell, Vázquez recognized fastball and started swinging before he realized the location. But still, oof. That's a really bad swing on a pitch that almost no one would offer at.
4. Willians Astudillo vs. Willians Colin Poche
It wouldn't be a list of bad swings without Astudillo making an appearance. Poche is a regular on lists like this, too; His fastball has tremendous vertical movement, which induces a lot of bad swings at pitches that end up far above the strike zone.
Would a garden variety high swing by a swing-happy hitter against a chase-heavy pitcher make this list? Perhaps not. This pitch is pretty far out of the strike zone, sure, but if you adjust for the players involved, it's less of a standout. I'm not grading on a curve, but if I were, I might give bonus points for this. Here's the first pitch of the at-bat:
I love how Astudillo holds his bat in the zone he's about to swing at. "Throw it here," I can imagine him saying, and Poche obliged. And finally, the last pitch of the at-bat was pretty funny too:
Three fastballs. Nothing even approaching the zone. Three swings. It's the Willians Astudillo Experience in a nutshell.
3. Jose Altuve vs. Wyatt Mills
Out of a sense of decency – and also an aversion to automatically wincing 25 times while I edit this article – I'm not going to show you where that foul ball hit Altuve. Suffice it to say that he was on the ground for a minute or two after that pitch. Do you know how hard it is to get inside on Altuve? Look at where he set up for this pitch!

Still, Mills came inside and somehow got a swing – a painful, painful swing. Altuve was supremely uninterested in repeating the experience. When playing resumed, he set up even farther from the plate: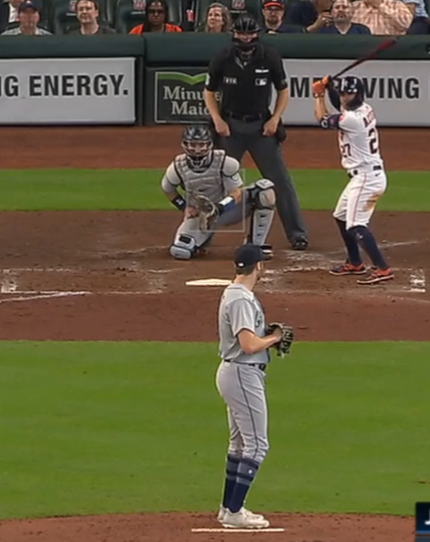 Bad swings: they aren't just bad for your on-base percentage, they're bad for your health! In fact, by that definition, this might be the worst swing of the year.
2. Andrew Vaughn vs. Casey Mize
I almost skipped this one, because it's so similar to number four, but Vaughn's combination of a terrible decision and surprising contact is worth seeing. Bonus points for putting that one in play, but also a huge pile of negative bonus points for swinging at it in the first place. I can at least understand where Vaughn is coming from here; Mize's four-seamer is comfortably the easiest of his pitches to make contact with, and with a runner on the third and fewer than two outs, making contact is the name of the game here.
That's all well and good – but it's pretty tough to do much with a pitch at eye level. That's not even an exaggeration; that pitch was five feet off the ground. Vaughn stands 6-foot flat, and he was crouched down. That pitch was legitimately at his eyes. I'm very impressed that he somehow made contact and at least gave himself a chance at staying alive – as you can see in the GIF, he thought he had fouled that one off – but swinging at a fastball that would need to hail a fairly expensive cab just to find the strike zone is the exact definition of this list.
1. Jorge Alfaro vs. Jorge Alfaro Scott Effross
Goodness gracious, that's a bad swing. Effross might have hit Alfaro and forced in a run if he could only hold back. In Alfaro's defense, Effross got a ton of horizontal movement on his sinker, and he's generally a hard pitcher to square up. His sinker behaves more like a secondary pitch than your average reliever's. In fact, of all the swings at terrible pitches in my database (I cut them off at an arbitrary distance out of the zone to avoid having to download every pitch thrown this year), that sinker had the second-most horizontal movement.
Still, Alfaro gets first place here, because earlier in the very same at-bat, the pitch with the most horizontal movement in the database again made Alfaro look foolish:
Fool me once, shame on – well, still shame on me when the fastball is that far off the plate. But doing it again after already knowing what was coming, and on a pitch that far out of the strike zone? The second "half" is going to have its work cut out for it; Alfaro is the front-runner for the worst swing of the year.